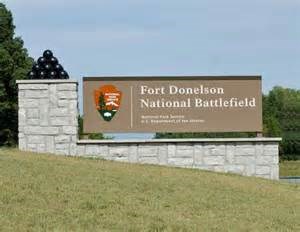 The main unit of Fort Donelson National Battlefield is located in Dover, Tennessee, and can be accessed from US Highway 79.
The nearest major airports are in Nashville, about 2 hours away, and Memphis, about 2.5 hours away.
From Nashville, it is best to take I-24 to Clarksville, and, in Clarksville, take Highway 79 South to Dover.
We recommend that no matter which way you come, that you use a map-finding service, such as Google Maps, to find us...the addresses to enter:
https://www.google.com/maps
Fort Donelson Main: 120 Fort Donelson Park Road, Dover, TN, 37058
Fort Donelson "temporary" visitor center: 117 Visitor Center Lane, Dover, TN, 37058
Fort Donelson National Cemetery/ Park Headquarters: 174 National Cemetery Drive, Dover, TN, 37058
Rental car services are available in Nashville, Clarksville, Memphis, Paris, (all TN), Murray (KY), Paducah (KY), and many other communities in the area. Rates vary.