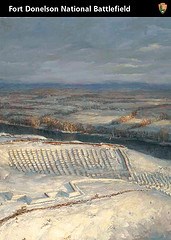 Please note that as of September, 2016, almost all of the Fort Donelson trading cards are gone. There are only a very few of some of the cards left. You may see the entire set here, and print from home:
https://www.flickr.com/photos/tradingcardsnpsyahoocom/sets/72157629788464170/

These trading cards can be obtained at the Fort Donelson National Battlefield visitor center after completing a little quiz that will test your knowledge on the Civil War.

Building and Losing Fort Donelson
Using axes and shovels to make a wall of logs and earth 10 feet high, Confederate soldiers and slaves built Fort Donelson along the Cumberland River over a period of seven months. The fort fell into Union hands after the legendary Battle of Fort Donelson, February 13-16, 1862, which led to the fall of Nashville, Tennessee.