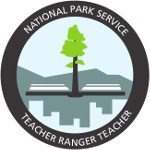 The National Park Service's "Teacher Ranger Teacher" program is an excellent opportunity for teachers to develop a unique relationship with their National Parks as well as introduce the National Parks to their students. It's also an excellent way for teachers to develop some additional continuing education opportunities.
Fort Donelson has participated in the Teacher Ranger Teacher program in 2010 and in 2013, working with the Stewart County School District and the Montgomery County School District.
In 2013, our Teacher Ranger Teacher deeply researched the role of Civil War sketch artists and how they played a vital role in keeping American readers informed throughout the War, in particular following the Battles of Forts Henry and Donelson, as well as how their work benefits historians and Civil War researchers today. This information will be incorporated into a new Ranger led program as well as a new traveling trunk that will be sent across the country starting in 2014.
TRTs usually work about 160 hours. At Fort Donelson, the period of work is between early June and late July. Themes, goals, and objectives are discussed upon selection. Applications are usually solicited in March or April...this will be posted here on our website.
For nonlocal TRTs, housing is possible, but not guaranteed.