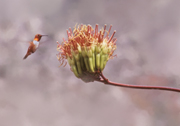 Fort Bowie Bird Checklist: Bird List (pdf 600 KB)

The dominant habitat type at Fort Bowie is Chihuahuan desert grassland. This shrubby savanna covers the valley between the two adjacent mountain ranges, offering lower elevation grassland habitat to those birds that aren't usually found in the mountains. Sparrows are abundant, as well as doves, quail, meadowlarks, and other desert grassland birds. The slopes are dotted with oak and pinyon-juniper woodlands, gradually transitioning into the higher elevations.
Another feature that attracts many birds is Apache Spring, which provides a small but steady flow of water throughout the year. A narrow riparian corridor runs through the canyon bottom, making it an important "stopover" area for migrating birds. Large trees grow in this corridor, providing nest sites, foraging areas and summer shade for avian residents. Hawks nest in the large trees, as well as perching there while searching the adjacent areas for prey. Many migratory birds – such as warblers, orioles, flycatchers, and hummingbirds – utilize this riparian area (a very rare habitat in the southwest) during the hot summer months.