People
Fort Bowie provides us with many stories from its long history through westward expansion and the Indian Wars with the
Chiricahua Apache
. Many of the individuals' stories ended here at the
Fort Cemetery
.
Read the article below to learn more about some of the people who added to the fort's history and gave it its personality.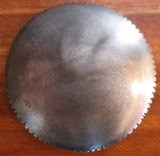 Miss Daisy's Silver Concho (.pdf)
by Karen Gonzales
Artifacts of the past can do more than teach us about how our ancestors lived. Some of these items have the power to spark our imaginations, ignite our curiosity, and even evoke feelings about, and for, those who lived in historical times. ...
Last updated: July 26, 2018