Fire Island Communities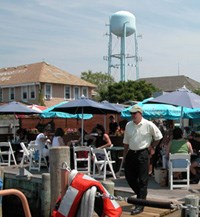 There are 17 different communities on Fire Island within the boundaries the national seashore. When Fire Island National Seashore was established in 1964, its enabling legislation stated that these communities and preexisting commercial uses would be allowed to remain, as long as development was consistent with zoning ordinances established by the Secretary of the Interior.
Some of the Fire Island communities consist of only a few homes while others have hundreds of houses, with restaurants, small grocery and retail stores, and other businesses. There is one elementary school on Fire Island.
There are rental properties, summer homes, and year-round residences on the island. Several hundred people reside in the communities within the boundaries of Fire Island National Seashore during the winter months, while that number swells during the summer.
Although ferry service is available to most communities, many locations do not provide public restrooms. Some of the communities have their own web sites with tourism information. You may contact them directly for more information.
Last updated: October 23, 2020