Wetlands, Marshes and Swamps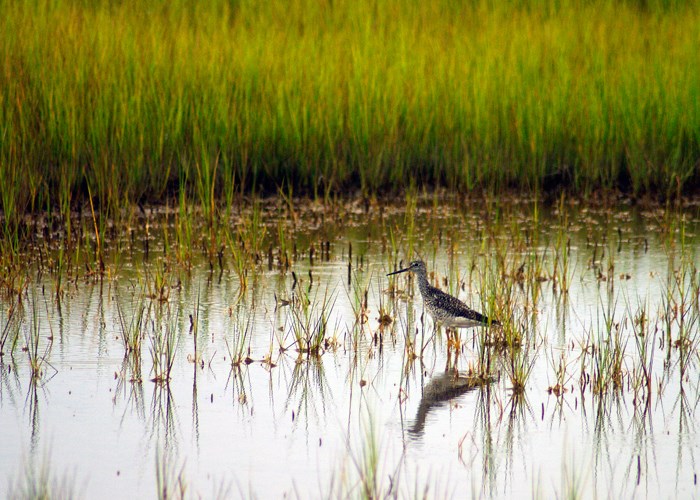 Salt Marsh Services
Fire Island National Seashore includes a considerable amount of salt marsh within its boundaries.
Salt marsh vegetation has extensive root systems that enable them to withstand brief storm surges and buffer storm impacts on upland areas.
Salt marshes act as filters. They are able to absorb nutrients and pollutants, reducing the amount that would otherwise run into both estuarine and coastal systems. They are also sediment traps, preventing sediments from washing offshore and often creating more land area.
Salt marshes are nursery grounds for important commercial and recreational fishes as well as other species that are a vital part of the estuarine food chain. Salt marshes are valuable habitats for wading birds and waterfowl. They provide refuge for birds feeding on adjacent mudflat; breeding sites for waders, gulls and terns; a source of food for passerine birds in autumn and winter; and a feeding ground in winter for large flocks of geese and ducks.
Monitoring the Condition of Fire Island's Salt Marshes
Salt marsh communities often serve as biological indicators of the overall ecological health of a park. Threats to a salt marsh include sea level rise, storms, shoreline changes, invasion by exotic species, ditching, watershed development, and nutrient loading.
To monitor the health of several salt marsh communities on the Atlantic coast, the National Park Service has established protocols for monitoring specific variables, which will be implemented at Fire Island National Seashore.
For more information about the National Park Service Inventory and Monitoring Program, see Northeast Coastal and Barrier Network.


Last updated: February 14, 2019