Water Quality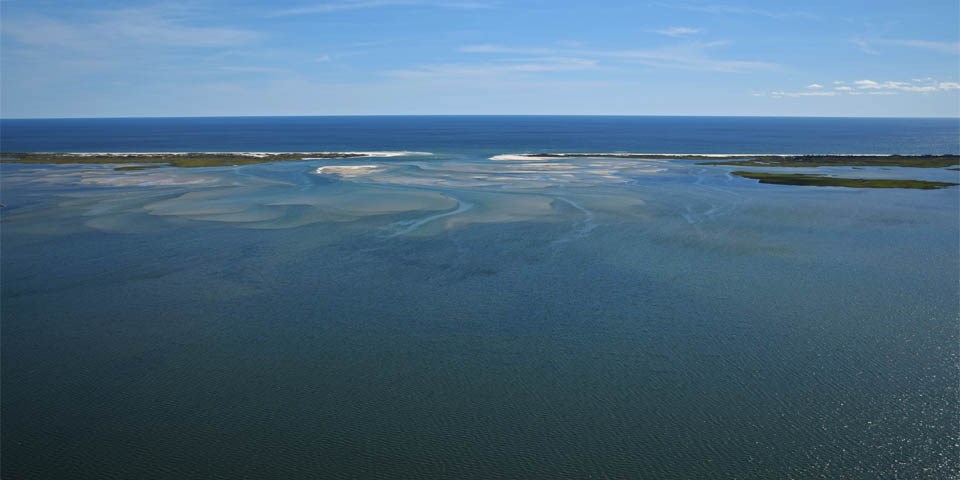 What's in the water?
Aquatic ecosystems are sensitive to changes in water quality, so the National Park Service monitors and works to protect the health of the Great South Bay. Salinity and water temperature influence the waters surrounding Fire Island, but nutrients and turbidity also have an impact on where plants and animals can survive.
Chemicals and organisms in the water can also affect human health and safety. Clean, safe water for recreation is an important resource - and one we can all work to protect.
Water, Water Everywhere
More than three-quarters of Fire Island National Seashore is marine or estuarine habitat. Of the 19,580 acres within the park's designated boundaries, 14,664 acres are open water. The Seashore boundary extends 1,000 feet into the Atlantic Ocean from Moriches Inlet to Robert Moses State Park, and up to 4,000 feet into the Great South Bay, and Bellport, Narrow and Moriches bays..
Dive into Water Quality Science
The National Park Service (NPS) works to protect water resources and has created a protocol to monitor estuarine nutrient enrichment for its Vital Signs Monitoring Program of the
Northeast Coastal and Barrier Network
. Studies on water quality at Fire Island are available at the links below.
The U.S. Geological Survey (USGS)
National Water-Quality Assessment Program (NAWQA)
provides an understanding of water-quality conditions and how those conditions may vary locally, regionally, and nationally; whether conditions are getting better or worse over time; and how natural features and human activities affect those conditions.
Testing Water Quality on Fire Island
Most of the drinking water on Fire Island is now provided through
Suffolk County Water Authority (SCWA)
, which supplies water to the majority of people in Suffolk County. Their drinking water supplies are tested to ensure that federal, state and local water quality standards are met.
Suffolk County Department of Health Services (SCDHS)
Office of Ecology also conducts water quality testing within the boundaries of Fire Island National Seashore, and monitors public bathing beaches to ensure that bacterial levels do not exceed State criteria.
Last updated: October 17, 2016