Sand Dunes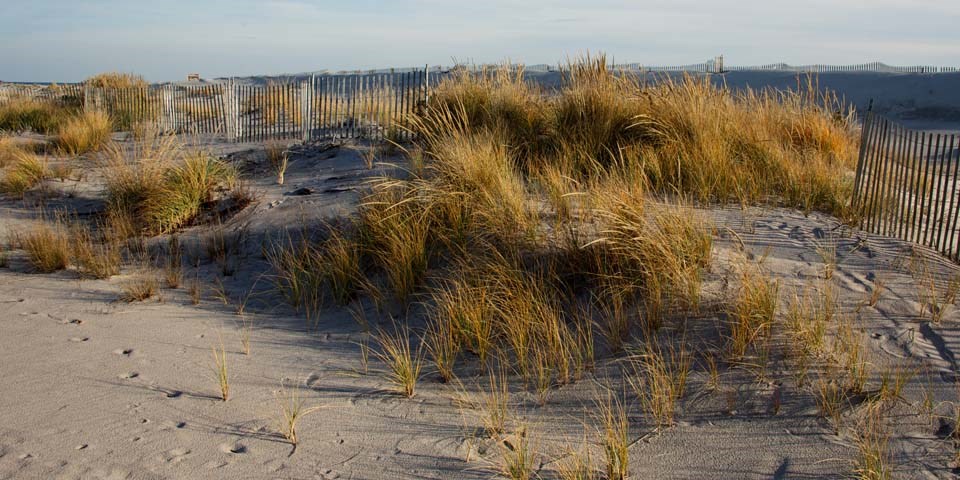 Dunes on Fire Island
Sculpted by winds and strengthened by vegetation, sand dunes are a spectacular feature that are not only beautiful but crucial to the island's health. These dunes offer the first line of defense against wave action from storms.
Some of Fire Island's primary dunes east of Watch Hill are as high as 40 feet. It can take decades for dunes this size to develop. Dunes form gradually over time, providing shelter from wind and salt spray for plants that grow on their leeward side.
Dune vegetation is very important for the formation and stabilization of dune complexes on barrier islands. American beachgrass facilitates dune growth by trapping windblown sand. Both the root system and exposed vegetation restrict sand movement around plants, helping to secure the dune. This gradual process results in a predictable continuum of plant inhabitants from beach to bay: salt spray-tolerant, sandy-soil grasses and succulents thrive nearest the edge of the sea;less salt-tolerant shrubs inhabit the sunny swale behind the dunes;and, shade-loving woody plants and herbs thrive in the cover and rich soils of the maritime forest.
Behind some of the primary dunes lies a series of crescent-shaped secondary dunes, with a low interdunal swale habitat in between. The primary dune ridge (foredunes) lies adjacent to the shoreline. Secondary dune fields may lie further inland. Dunes may form anywhere that aeolian processes (wind transportation) occur.
Dunes are critical to the natural resilience of sandy beaches. Dunes provide much-needed protection to back-barrier environments against severe wave, wind, and storm events. In addition, these natural features provide critical habitat to a variety of migratory birds and mammals.


Last updated: October 6, 2016