White-tailed Deer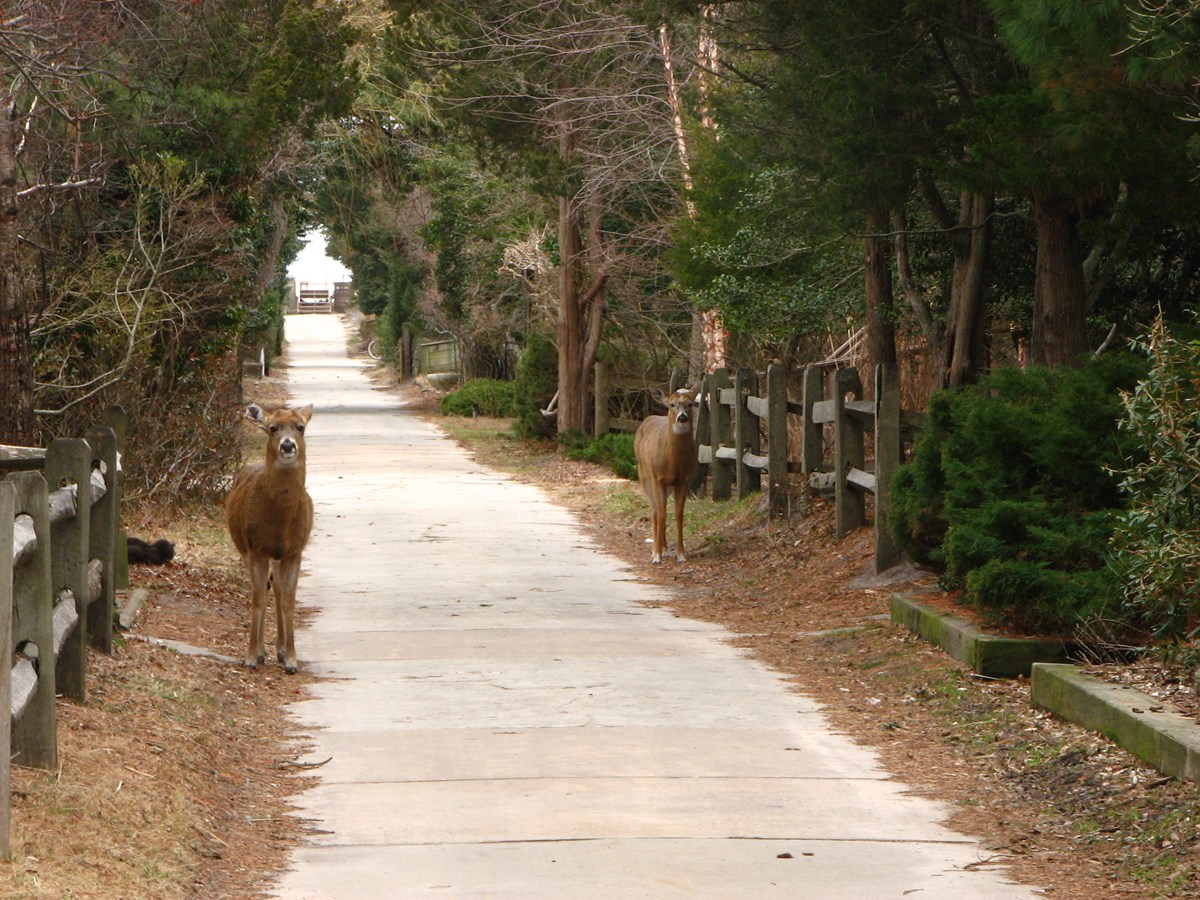 White-tailed Deer on Fire Island

White-tailed deer (Odocoileus virginianus) are the most widely-distributed large mammal in North America. Deer are commonly seen across Fire Island, from the Fire Island communities on the west end of the island to the undeveloped Otis Pike Fire Island High Dune Wilderness on the east end.

There are roughly 400 deer on Fire Island and 100 at the William Floyd Estate. The number of deer however is not as important as the impacts these animals have on the condition of natural habitats and historic plantings at the William Floyd Estate.

Deer are herbivores, and eat a wide variety of vegetation. Decades of vegetation monitoring in the globally rare Sunken Forest and elsewhere within the Seashore show deer have impacted the ecosystem and threaten the ability of Seashore forests to regenerate naturally.
Learn more about the research which helps the National Park Service better understand the impact of white-tailed deer on Fire Island habitats and supported the development of the White-tailed Deer Management Plan.
Coexisting with Wildlife

We play an important role in preserving a balanced ecosystem, especially on Fire Island where people and nature coexist.
Some deer on Fire Island are accustomed to humans and tend not to flee. For this reason people can get very close to deer and, oftentimes, try to touch or feed them by hand.

It is understandable that a close encounter with a wild animal in a natural setting is exciting. However it is best to maintain a safe distance in order to keep wildlife wild and to protect yourself from harm.
Never feed wildlife. Feeding deer can change their natural behaviors and may affect their overall health. This is even true of inadvertent food sources like garbage or unsecured food items. Wildlife can become "food-conditioned" and may look for food near public spaces or garbage cans.
Food-conditioning can lead to undesirable and potentially unsafe human-deer interactions. Food-conditioned deer may also be more likely to become entangled in fencing, approach us, or be struck by a vehicle when in search of food.

Commit to keep wildlife wild so you can keep yourself and white-tailed deer safe on Fire Island.
Last updated: December 14, 2018