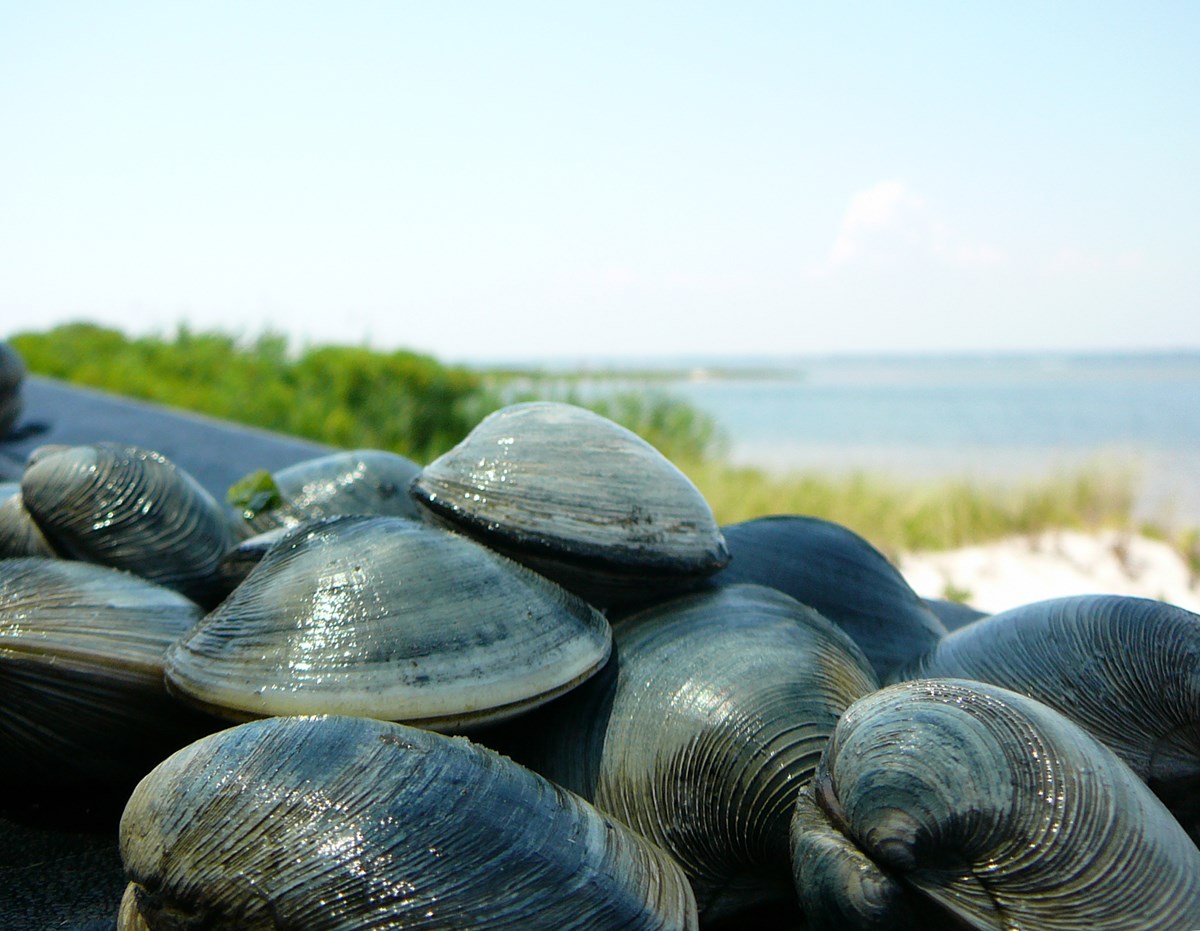 The ocean and bay shorelines of Fire Island are a place where land and sea meet and can provide clues about what's beyond the water's edge. Mollusks, or shellfish, like hard and surf clams, can be found on and off shore of Fire Island.
Types of Clams
A variety of clam species can be found on or near Fire Island. The shells of hard shell clams (Mercenaria mercenaria), surf clams (Spisula solidissima), and soft shell clams (Mya arenaria) are commonly found along the shore.

Hard shell clams are also known as quahogs and chowder clams, since the edible belly of this species is oftened used in soups like clam chowder. Hard shell clam shells are fairly thick and round, ranging in color from light to dark gray on the outside and often showing a deep purple ring on the inside. Native American tribes in the region used beads made from these shells, called wampum, as currency.

The elongated oval shell of soft shell clams is thin and chalky-white. A favorite of gulls, the edible belly of this species is also steamed and enjoyed as "steamers" by people.
The economically important surf clam lives on the ocean side of the island. It is harvested far off-shore, but its shells frequently wash onto the beach. You may even see a flock of gulls fighting over one of these live mollusks on the beach. Other ocean mollusks include the razor clam (Enis directus) and bean clam (Donax spp.).

Bean clams are small saltwater clams that occur on sandy beaches. This species is an important food source for striped bass, whelks, moon snails, ghost crabs, and many shorebirds. Bean clams are filter feeders and move up and down the shoreline, depending on the tides.

Clamming on Fire Island
Estuaries like the Great South Bay can be one of the most productive habitats on earth, with phytoplankton, eelgrass beds, and salt marshes providing a home for a variety of sea life. In the mid-nineteenth century, the Great South Bay was known for its Blue Point oysters. Later, from the 1960s to the 1980s, shellfishermen harvested an abundance of hard clams. Overfishing and changes in water quality led to the fall of the Great South Bay's oyster industry in the 1930s and then a steep decline in the hard clam population in the 1980s. Initiatives to improve water quality and restore shellfish populations continue today.

Clamming can be done with a tool called a rake or clam hoe, or very carefully with your feet, along the sandy shores of Fire Island. For more information on recreational shellfishing, visit the New York Department of Environmental Conservation website.

Ranger-guided clam programs may be offered during the summer months. Be sure to check the calendar before your visit.