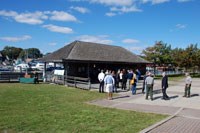 On a symbolically bright and sunny mid-autumn day, a small group of park supporters, local politicians and other interested people gathered for a long-awaited sight. Fire Island National Seashore finally launched the construction of a new Patchogue-Watch Hill Ferry Terminal with a groundbreaking ceremony on Friday, October 17, 2008.
The previous Patchogue-Watch Hill Ferry building, constructed in 1985 as a temporary facility, was little more than a covered passageway between a ticket booth and inadequate restroom facilities.
The new facility, at 4,000 square feet, will be more than twice as large as its predecessor. It will be constructed on higher ground, with a deck overlooking the Patchogue River. The windows of the building's lobby and multi-purpose room overlook a vibrant, developing maritime center in the Village of Patchogue, New York.