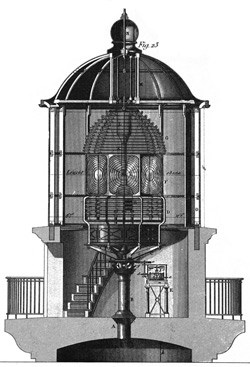 Fire Island's Fresnel Lens
When the present Fire Island Light began operation on November 1, 1858, it was illuminated by a state-of-the-art first order Fresnel (pronounced fray-nel') lens, an intricate beehive-shaped mass of brass and glass prisms, rotating on a clockwork assembly. This lighting apparatus served as a beacon to mariners from the top of the Fire Island Lighthouse from 1858 to 1933.
In anticipation of the electrification of the Fire Island Light, the original lens was taken out of service in 1933, disassembled, crated up, and moved to Philadelphia, Pennsylvania, where it was displayed at the Franklin Institute. In 2000, it was removed from permanent exhibit, disassembled, crated and placed in storage. It was moved to Long Island, New York, in 2007.
On March, 8, 2011, the Fire Island Light Station's first lighting apparatus-now more than 150 years old-made its way back to Fire Island...still in crates. Its future home, an intriguing new building designed specifically to display the impressive 16-foot-tall artifact, is still under construction.
The lens was reassembled during the spring of 2011, and unveiled to the public on July 22, 2011.