For Kids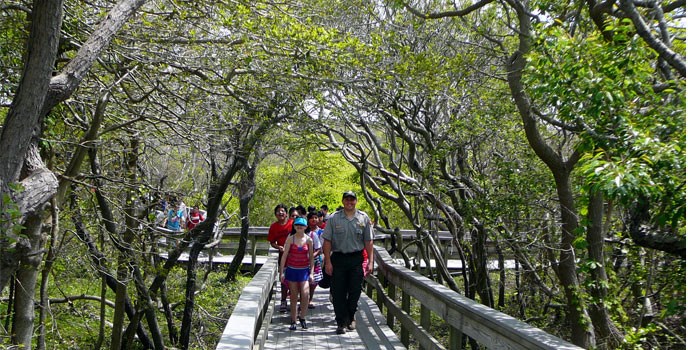 Fun and fascinating family-oriented programs are available all year.
Summer Programs
Play in the bay! Children of all ages wade in the bay shallows in pairs to sample marine life with a two-person net. This fun, interactive activity explores marine food webs, resource issues, and coastal stewardship.

Learn more by the shore! Join a park ranger for a CORE-aligned Marine Habitats/Adaptation program and walk from bay to beach, exploring habitats and adaptations along way.

Step back in time! Maritime History Explorations at the Fire Island Lighthouse: This standards-based education program is offered by the Fire Island Lighthouse Preservation Society. Students climb the iconic Fire Island Lighthouse, role play to learn about the United States Life Saving Service, and explore the "Forces of Nature" on a facilitated nature walk around the Lighthouse tract.

Make a splash in Seaside Family Adventures! Children 7-12 and their caregivers participate in crafts and interactive activities that cover a variety of topics including the nature and maritime history of Fire Island. Provided by the Fire Island Lighthouse Preservation Society once weekly in July at Fire Island Lighthouse.

Read on! Be a part of the Family Book Club in August. Children 7-12 join a book reading and complete an activity focused on Seashore themes.

Explore the globally rare Sunken Forest, dynamic ocean shore, or the only federally designated wilderness in NYS.
During National Park Week the Seashore hosts an annual Junior Ranger Day event. Fun-filled, place-based activities and programs are also offered year-round.
At the William Floyd Estate a self-guided Junior Ranger activity booklet is available upon request. Park ranger-led Junior Ranger programs are generally offered four times each summer.
Year-Round Programs

Become an official Junior Ranger at Lighthouse or Wilderness Visitor Center
Visit our park partner, Fire Island Lighthouse, for a variety of family-friendly and educational programs.
Check the Schedule of Events for a complete list of Junior Ranger and family activities.


Last updated: February 18, 2016