U. S. Life-Saving Service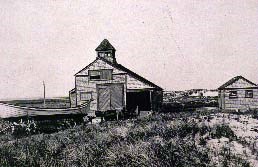 After Congress passed the Newell Act in 1848, a series of life saving stations was first constructed on Long Island in 1849. More money was appropriated in 1855, and additional stations were built.
The U. S. Life-Saving Service was established in 1871 to aid mariners in distress. Additional funding allowed for the reconstruction of existing life saving stations and the construction of more.
First a volunteer organization, then a government agency, the U.S.L.S.S. conducted ship-to-shore rescues in the days before modern navigation.
Seven crews were stationed on what is now Fire Island. (Moriches Inlet, currently the eastern terminus of Fire Island, was created by a storm in 1931. See Moriches Station)
The U.S.L.S.S changed radically with the invention of power boats. In 1915, the agency merged with the Revenue Cutter Service to become a new organization, the U. S. Coast Guard.
Learn More
Last updated: February 26, 2015