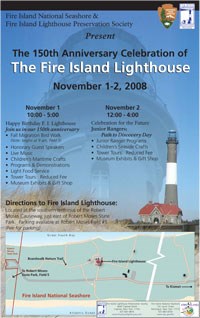 On November 1 & 2, 2008, Fire Island National Seashore and the Fire Island Lighthouse Preservation Society will be hosting two days of special events and activities to celebrate the 150th anniversary of the lighting of the present Fire Island Lighthouse.
You're invited to join the festivities and celebrate the longevity of this significant cultural resource along the south shore of Long Island, New York.
Extend the Invitation!
Download the Program
Learn More About the Fire Island Lighthouse