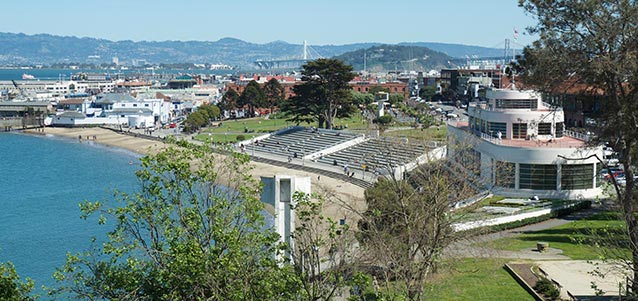 Take a walk around Aquatic Park, a waterfront oasis in a busy urban area. Enjoy expansive views of Alcatraz, the Golden Gate Bridge, and the park's historic ships.
Aquatic Park is a crossroads of activity, with people traveling by bike, sneakers and sandals to and from Golden Gate National Recreation Area to the west and Fisherman's Wharf to the east. With more time to relax, you can take photos, sit in the bleachers, and build sandcastles. 
Start your short stroll at the corner of Hyde and Jefferson streets and pass the Dolphin Swimming and Boating Club and the South End Rowing Club on your right. On your left, Victorian Park offers a grassy spot to picnic as well as access to ride a historic cable car. 
Cross the paved promenade and stick your toes in the sand at Aquatic Park Cove. Take a moment to listen to the waves lap the shore or watch crabs scamper across rocks at low tide. If you're feeling brave, you can even swim in the water. The nearby Maritime Museum Building affords a break from the sun and wind and features rotating park exhibits and colorful murals painted as part of the 1930s Federal Arts Project.  
https://www.nps.gov/safr/learn/historyculture/aquatic-park-history.htm