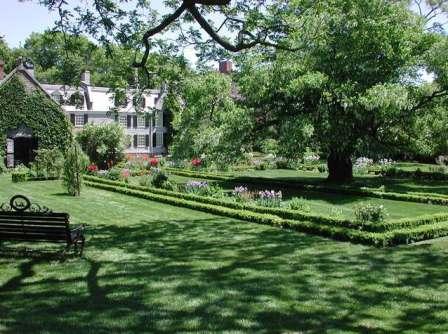 Explore some 13 acres of a park that includes a historic orchard, a garden that awakens your visual and aromatic senses and a sweeping meadow for you to stroll.  See the birthplaces of two presidents and home of America's "patriot on the home front."  Visit the summer White House of two presidents and first ladies.  Be inspired by the lives of four generations of a family whose ideas and actions influenced and shaped the history and development of the United States.  Right in your own backyard this place exists.  Find your park, and your experience, at Adams National Historical Park!

Four generations of the Adams family of Quincy, Massachusetts served their country, from the American Revolution through the Civil War.  Their story begins in two 17th century saltbox cottages at the foot of Penn's Hill.  Here, future 2nd President of the United States, John Adams, was born.  Just 75 yards away is the home where John Adams and his "patriot on the home front," Abigail , settled into marriage and cultivated a partnership that would endure for over 54 years.  In this humble cottage, Abigail advised her husband to, "remember the ladies," as he and fellow delegates gathered in Philadelphia at the Continental Congress.  It is in this home that their son, John Quincy Adams, future  6thUnited States President was born.
Less than a mile away is the Old House at Peace field, home to four generations of the Adams family.  The home, with a collection of approximately 100,000 objects including furnishings, fine and decorative arts, books, and archival materials belonging to the Adams family, reflects the family's public experiences.  It was in the tranquility of Peace field  where the Adams family sought refuge from the rigors of public life.
The historic homes are open for tours from 9:00 AM to 5:00 PM seven days a week, including holidays, from April 19 through November 10.  Tickets for tours of the homes may be purchased at the Visitor Center, located in the Galleria at 1250 Hancock Street in Quincy Center where free validated parking is available on the 4th and 5th floors in the Galleria Parking Garage.  The park's trolley bus leaves the Visitor Center for the historic homes throughout the day; the first trolley leaves at 9:15 AM and the last trolley leaves the Visitor Center at 3:15 PM.  Tickets are sold on a first-come, first served basis and tour size is limited for the protection of the historic resources and the comfort and safety of visitors to the homes.  Please note that large bags and backpacks are not permitted in the homes and storage for bags and backpacks is not available.  Please plan ahead.
Tickets are $5.00 each for adults aged 16 and over.  Children aged 15 and under are admitted free.  National Park Service passes are also accepted and may be purchased at the Visitor Center.