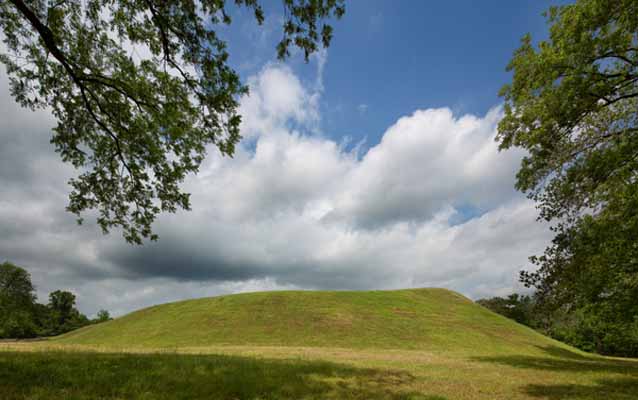 While traveling the Natchez Trace Parkway in southern Mississippi, at milepost 10.3, you can see and be part of the history of Emerald Mound. Manual labor, vast time, and boundless adoration all molded into one, creating what we know today as Emerald Mound.
Emerald is the second-largest Mississippian Period ceremonial mound in the United States. The mound was built between 1200 C.E. (current era) and 1730 C.E. and today covers eight acres and stands a majestic 35-feet-tall. Two smaller mounds adorn Emerald bringing the total height to approximately 60 feet.  Emerald Mound, built by native people known as Mississippians, was reared one basket of earthen soil at a time. The soil was gathered, transported, then stomped down in a repeated process creating this impressive structure before the invention of modern machinery.
Visiting Emerald Mound
If you visit the mound today, you will find a path leading to the top of the ceremonial site along with educational signs and plaques that teach about the mound's history. This site has become a favorite stop on the Natchez Trace Parkway and is visited by countless people each year. You can enjoy taking a short walk up the trail. If you close your eyes, you can visualize the native people who once called this home. Before you visit, be sure to download the brochure on Emerald Mound.
Emerald Mound is a sacred place to people of the Chickasaw and Choctaw Nations; the descendants of the mound builders. With this in mind, when visiting, please respect the ceremonial origin of the mound.