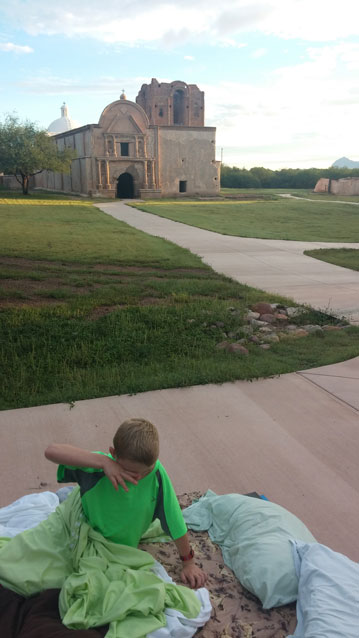 Who Slept at Tumacácori?
After the mission was abandoned in 1848, the adobe walls of Tumacácori's church, convento, and cemetery became a waypoint for travellers of all sorts. In fact, the very first recorded image of Tumacácori was sketched into the journal of H.M.T. Powell on his way to California to look for gold. Cowboys, military troops, livestock, and even families sought refuge from the desert sun here among the ruins of the mission. Now it's your turn.
How It Works
Participants will join park rangers and demonstrators after normal closing hours to explore what Tumacácori may have felt like for travellers passing this way in the late 1800's. We will eat traditional camp food prepared outside, sketch in journals under the guidance of real artists, sing songs, and explore the mission grounds by candle-light. When it is time to retire for the evening, we will tell ghost stories and then curl up like those historic travellers, sleeping either in the church itself or outside under the stars.