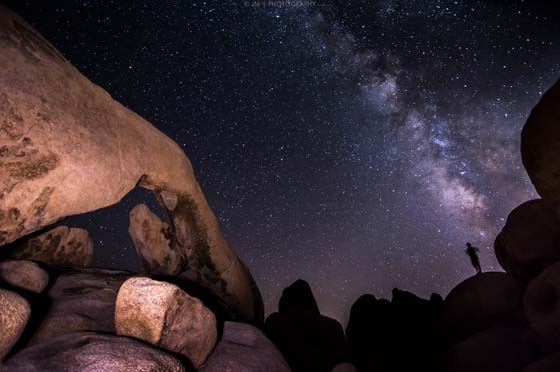 Can't see the Milky Way from where you live? You're not alone. As cities and urban areas expand, it has become harder and harder to experience the night sky in its natural and unpolluted state.
Joshua Tree National Park offers outstanding stargazing opportunities within a few hours' drive of several of America's largest cities. Be sure to experience the park after the sun sets.
Towering rock formations, outstretched ocotillo, and eerie Joshua trees create otherworldly silhouettes against a starry backdrop. A night spent under the stars gives city dwellers and night sky enthusiasts alike the chance to marvel at some of nature's finest scenery.
A drive down the Pinto Basin Road leads to some of the darkest skies in Southern California. Looking for more adventure? Consider a backpacking trip away from campgrounds for a more intimate stargazing experience. While you can see millions of stars any time of the year, the Milky Way is brightest in the summer and fall.
Several of our campground programs are night sky focused and provide an excellent introduction to stargazing. Call ahead or check the campground bulletin boards for the program schedule posted that week. Find out more about stargazing in Joshua Tree.