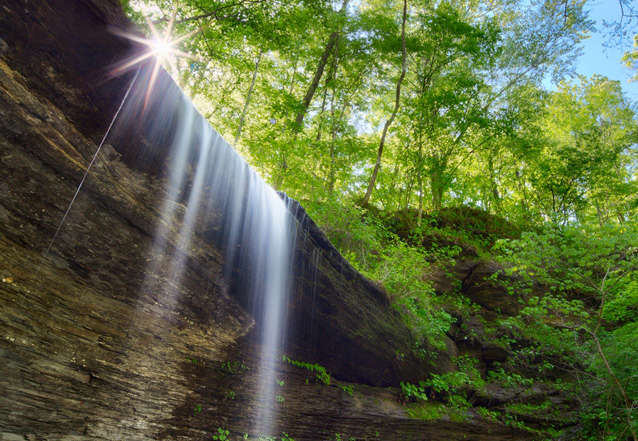 Perhaps two of the most awe-inspiring sites along the Natchez Trace Parkway are Jackson Falls (milepost 404.7) and Fall Hollow (milepost 391.9) located in Tennessee. Though both falls are equally picturesque, each fall offers a unique experience.
Jackson Falls
Jackson Falls has a gently sloping trail leading down to the falls that's a bit of a hike, but well worth it. The fall itself cascades down rocky slopes and runs into a creek that folks have been known to wade into. Surrounded by hills and towering trees, you may forget that the road is only 100 yards away. With nothing but the sounds of birds and rushing water, it is easy to close your eyes and have all the stresses melt away. A gentle slope down to the falls means a slope upwards to get back to the road, but don't worry, there is a bench halfway up if you get tired!
Fall Hollow
Fall Hollow has a much shorter trail to get to the waterfall with a bridge halfway down that allows you to look above the waterfall as the water flows over the sudden drop into a pool below. This view has a charm all its own, but for those who would like a closer look, you can walk down nature made "steps" to go below, and even behind the waterfall. There is a second waterfall at this site, which visitors can stand below and watch as the water runs and splashes down a steep embankment of rocks and moss. The second fall originates from a flowing stream that simply runs out of earth and free falls into a pool of water below.
Both Jackson Falls and Fall Hollow provide beautiful scenery, but also offer opportunities to see wildflowers, birds, and other wildlife. You will not be disappointed in the experiences you can have at these two sites along the Natchez Trace Parkway.