Sharing shade with George Washington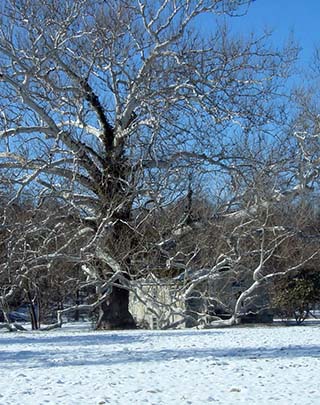 During the 1777-78 winter encampment of George Washington and the Continental Army, nearly every tree within and around what is now Valley Forge National Park had been cut to be used as firewood or shelter. Amazingly, a few trees managed to survive and three are still growing inside the park today, including one that was growing when William Penn set foot in Pennsylvania in 1682. This tree split in 2011 during a storm but it continues to grow today despite the damage. The encampment era trees may have provided a quiet resting spot to a weary Continental soldier and maybe even General Washington himself. Find one and share some shade with Washington.
Additionally, the park is home to three state champion trees. A state champion tree is considered particularly impressive or is an unusual example of a species due to its size, shape, age, or other characteristic. Try to find these special trees during your visit.
For a map and information about these and other trees in the park, download the Trees of Valley Forge or pick up a copy at the visitor center 
Last updated: April 28, 2015