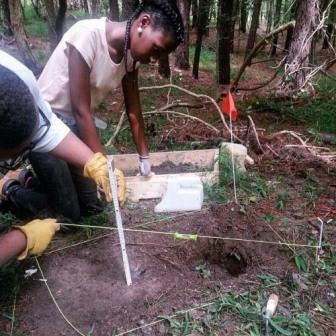 This past summer, Richmond National Battlefield Park partnered with the non-profit Groundwork RVA to bring a special experience to eight Richmond city high school students. These students were interns in Richmond's first Urban Archeology Corps, and spent the summer getting immersed in the archeology of a site once owned by members of a free black community.
The site, now owned by the National Park Service, was once owned by the Sykes brothers, descendants of slaves freed in 1777 by the will of John Pleasants. The former slaves formed the Gravel Hill community on about 12 miles southeast of Richmond. The site also witnessed the Battle of Glendale in 1862.
Following an orientation experience at Maggie L. Walker National Historic Site, the students started their project by researching the Gravel Hill community at the Library of Virginia and learning archeological terms and practices. They also spent time with members of the Gravel Hill community collecting oral histories, followed by two weeks of digging at the site with NPS and Groundwork RVA staff, including NPS archaeologist Erik Kreusch of the Northeast Regional Office.
The work made several students consider archeology as a field of study, and connected them to the National Park Service's centennial goals of creating youth stewardship in the parks.
"Everyone uses a park differently, but even if they don't become archeologists at least it will always be in back of their mind that these are special places and they will become our next generation of stewards and the people who care for these places," Kreusch told WCVE News.