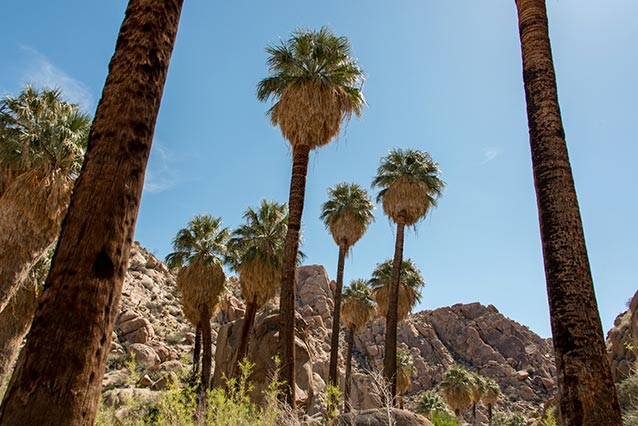 Those palm trees are no mirage: where water comes to the surface in the desert, it creates an oasis. Visit one of Joshua Tree National Park's oases and listen to the rustling sound of the wind through palm fronds. Feel the blessed coolness of shade on a hot day. Smell the moisture in the air and the lush plant life supported by water.
There are only 158 desert fan palm oases in North America. Five are located in Joshua Tree National Park: Oasis of Mara, 49 Palms Oasis, Lost Palms Oasis, Cottonwood Spring, and Munsen Canyon.
Access to the oases varies. The Oasis of Mara is behind the Oasis Visitor Center in Twentynine Palms, and is accessible via a paved sidewalk. A round-trip hike of 7.2 miles (11.6 km) takes you from the Cottonwood area to Lost Palms Oasis.
Learn more about fan palm oases and plan your visit to Joshua Tree National Park.