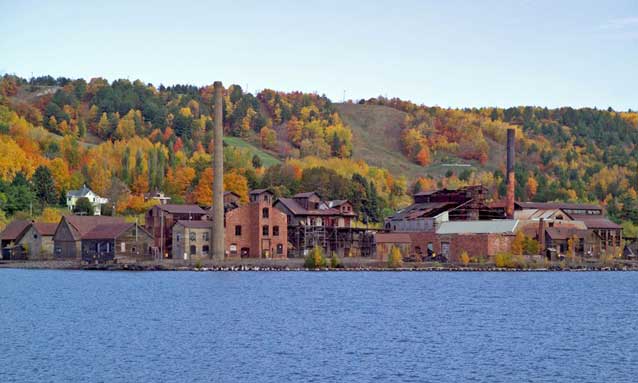 Exploring the Quincy Unit of Keweenaw National Historical Park
is fun for all ages and interests! Designated a National Historic
Landmark District in 1989, the NPS, Quincy Mine Tours, and the
Quincy Smelter Association partner to offer a variety of experiences.
Quincy Mine Tours provide guided tours of the underground
mine and hoist house, along with self-guided tours of the #2 shaftrockhouse.
Outside exploration of the site is free of charge and open
to the public.
Also contained within the Quincy Unit, near the Portage Lake lift
bridge, is the Quincy Smelting Works. Although currently enclosed
by fencing, everyone is welcome to explore the perimeter of the
property. You may also go on guided tours led by the Quincy Smelter
Association. Many buildings remain on the site, giving evidence
to this once-flourishing industrial complex. In recent years, some
stabilization and preservation work has been accomplished with the
hope that the site will be open in the future.