Paw Paw Tunnel & Paw Paw Tunnel Trail
Paw Paw Tunnel & Paw Paw Tunnel Trail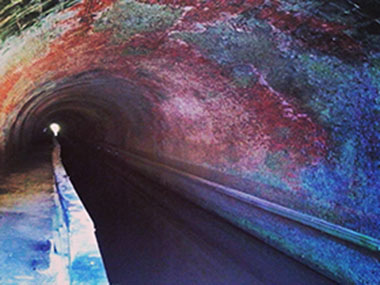 14 years of construction.
Over $600,000 spent.
6 million bricks used.
3,118 feet long.
Those are just a few of the staggering statistics of the greatest engineering marvel along the Chesapeake & Ohio Canal National Historical Park. Located at milepost 155.2, the Paw Paw Tunnel helped eliminate 6 miles of canal and opened up economic success for Cumberland, Maryland. However, completing the Paw Paw Tunnel was not an easy task. Through labor strikes, money issues, and illness, the construction of the 3,118 foot long tunnel took nearly 14 years to complete and was placed well over budget. Today, when you plan your visit to the Paw Paw Tunnel, bring a flashlight and discover the weep holes, rope burns, rub rails, as well brass plates that bring the tunnel's history to life. Following your travels through the tunnel, enjoy the two-mile long Tunnel Hill Trail where you can discover breathtaking views of the Paw Paw Bend.  
Last updated: May 21, 2015