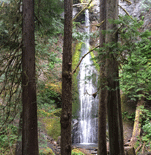 Olympic National Park (ONP) is home to a variety of environments ranging from glacier topped mountain peaks in the interior, to old grown forests blanketing rich river valleys, to a wild and dynamic coastal strip. Covering over 920,000 acres, ONP protects 12 major river watersheds and is home to more than 3,500 miles of rivers and streams. Those river and streams support over a dozen waterfalls year round, but come rainy season countless waterfalls emerge. 
We invite you to experience the three waterfalls that can easily be found while exploring the north Olympic Peninsula-Madison, Marymere and Sol Duc Falls. Breathe in the fresh forest air, take a stroll under towering giants decades old, and be prepared to hear and feel signs of the falls before you reach them. As you approach you may feel the cold air rush to greet you, getting closer you may even feel a gentle mist spray your face.
Enjoy your visit to the falls but please do so safely.  For your protection as well as resource preservation, please stay on the trail and enjoy the falls from within designated viewing areas. The rocks and vegetation around the waterfall may be fragile, slippery and unstable so please refrain from trampling and climbing.