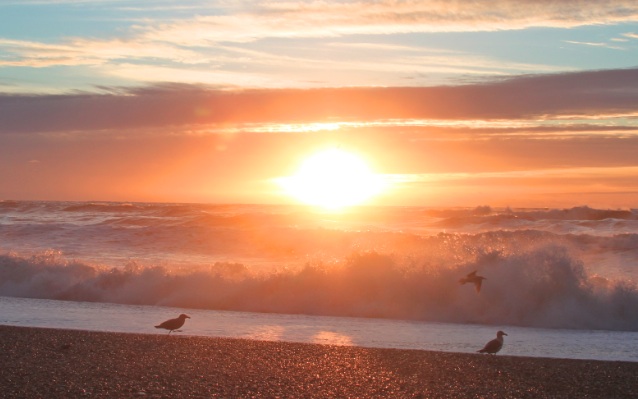 Olympic National Park protects over 70 miles of wild and rugged Pacific Coastline. This rare treasure provides visitors with miles of unspoiled beaches to explore and almost limitless "perfect spots" to enjoy a beautiful summer sunset.
One of the most popular and easily accessible beaches is Rialto Beach, a rocky shoreline with scenic views of the unique 'seastack' rock formations found along the Pacfic Coast. 
Another popular spot for a quick sunset stop is Kalaloch Beach, which can be easily reached via short trails along Highway 101. This area is also one of the few places in the park where you can hike with your dog.  
For the more adventurous sunset seekers, there is the coastal wilderness trail, which is split into two sections, north and south. The northern section covers nearly 30 miles from Shi Shi Beach to Rialto Beach; the southern section spans over 17 miles from Second Beach to Oil City. Gaining access to these areas is only by foot. Some areas can be reached in a day, but more remote locations are best explored on an extended backpacking trip. 
When visiting the wilderness coast, it is important to plan for a safe and fun visit. The coast can be unpredictable and it can be easy to get caught by a high tide. When planning a hike, check the area's schedule of low and high tides, prepare for changes in the weather, pick up a wilderness camping permit and bear canister in Port Angeles if camping overnight, and tell someone where you plan to go. Help can take a long time to arrive in the wilderness.
"To be whole and harmonious, man must also know the music of the beaches and the woods. He must find the thing of which he is only an infinitesimal part and nurture it and love it, if he is to live."
William O. Douglas
Supreme Court Judge
Champion for Olympic National Park