Picture Yourself at Old Faithful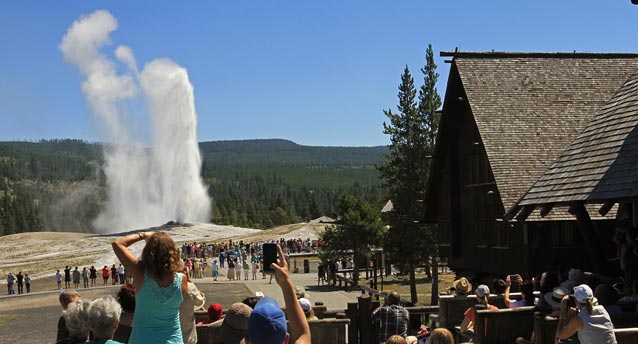 Watching Old Faithful erupt is a Yellowstone National Park tradition. People from all over the world have journeyed here to watch this famous geyser. The park's wildlife and scenery might be as well-known today, but it was the unique thermal features that inspired the establishment of Yellowstone as the world's first national park in 1872.
Old Faithful is one of nearly 500 geysers in Yellowstone and one of six that park rangers can currently predict. It is uncommon to be able to predict geyser eruptions with regularity and Old Faithful has lived up to its name, only lengthening the time between eruptions by about 30 minutes in the last 30 years. The reliability of Old Faithful inspired early developers to build special viewing areas, lodging, and concessions for visitors to watch eruptions.
Thermal features change constantly and it is possible Old Faithful may stop erupting someday. Geysers and other thermal features are evidence of ongoing volcanic activity beneath the surface and change is part of this natural system. Yellowstone preserves the natural geologic processes so that visitors may continue to enjoy this natural system.
Watch eruptions from the Old Faithful viewing area, walk the boardwalks that weave around the geyser and through the Norris Geyser Basin, take a guided tour, or watch Old Faithful erupt live on Yellowstone's webcams. You never know what you will see: each eruption is different and wildlife often visit.
Find out when the next eruption is predicted at the Old Faithful Visitor Education Center, the NPS Yellowstone Geysers app, Twitter, and on the webcams.
Learn More
Last updated: April 1, 2015