The Pony Express Rides Again- June 15, 2016!
2017 National Pony Express Association Annual Re-Ride Map Tracker
A map displaying the movement of riders carrying mail on the 38th annual re-ride of the Pony Express National Historic Trail.
Annually members of the National Pony Express Association mount their horses and re-ride history. This year's event will not only honor the riders, but also the National Park Service centennial. A celebration and kick off of this event will be held on June 15th at 9:00 a.m. at the Pony Express Statue at the corner of 2nd and J Streets in Old Sacramento State Historic Park.
Following a swearing-in ceremony, this year's first rider, a local high school student, will leave Old Town headed east in the company of her parents. Since the mail is always on time, the rider will leave Old Town promptly at 10:00 a.m., carrying with her commemorative letters in a mochila, including one about the National Park Service Centennial. Over the next ten days she and over 600 other riders will follow the approximately 2000-mile route taken by those carrying mail between California and Missouri in 1860 and 1861.
Before the rider's departure, local students who won the Sacramento County history diorama competition will be on hand, as will the winners of the Girl Scouts What the National Park Service Means to Me essay competition. Speaking at this event will be a member of the National Pony Express Association and the Superintendent of the National Trails Intermountain Region of the National Park Service.  Following the rider's departure the public is invited to learn more about the National Pony Express with California State Park rangers and members of the National Pony Express Association.
The National Park Service administers the Pony Express National Historic Trail.  For more information about the national historic trail and links to digitally follow the re-ride visit www.nps.gov/poex or www.nationalponyexpressassociation.com.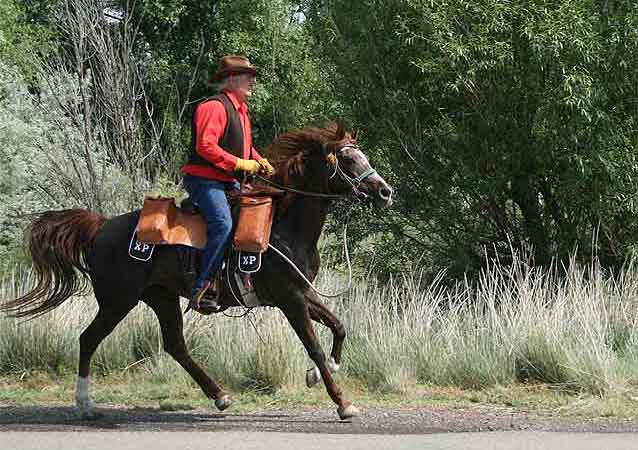 Watch the Pony Express ride by!
Last updated: June 10, 2016