Hike to North America's Longest Natural Arch
Landscape Arch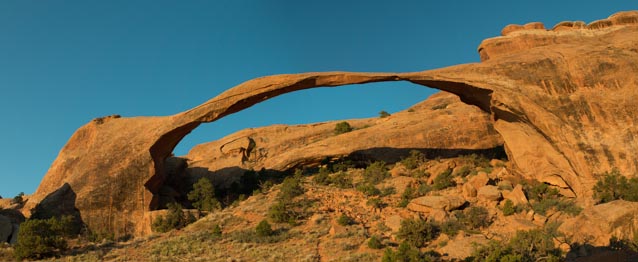 Landscape Arch is the longest natural arch in North America. With an opening measuring 306 feet (93.3 m), this arch is a narrow ribbon of rock that is just six feet thick (1.8 m) at its narrowest point. It is one of the many all-stars at Arches National Park.
In 1991, a 73-foot foot slab of rock fell from Landscape Arch. Today the area below the arch is closed for visitor safety. The arches are ever-changing, and we never know when more of the arch could fall! Climbing, walking, rapelling, or scrambling on arches is prohibited.
Hike to Landscape Arch

Landscape Arch
Starting Point: Devils Garden trailhead parking area
Length: 1.6 miles (2.4 km) round trip
Time: 30 to 60 minutes

Start at the Devils Garden trailhead parking area. A relatively flat, gravel-surfaced trail (usually heavily populated with hikers) leads to Landscape Arch. Short side trips lead to Tunnel Arch and Pine Tree Arch. Trail guide available at trailhead. From Landscape Arch, you can return to the parking lot for a 1.6 mile (2.4 km) roundtrip hike. Beyond Landscape Arch, the trail continues up steep slopes and over slick rock toward Double O Arch.
Double O Arch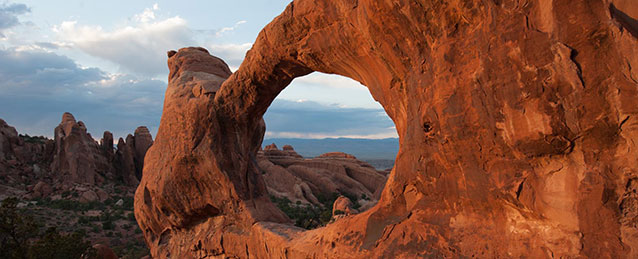 Double O Arch is a double-decker. There are two openings stacked on top of each other. Along the way, you'll see side trails to Navajo Arch, Partition Arch and Dark Angel. This is a longer hike with rock scrambling and exposure to heights. Returning to the car, back the way you came, from Double O Arch will make a 4 mile (6.4 km) roundtrip.
Primitive Trail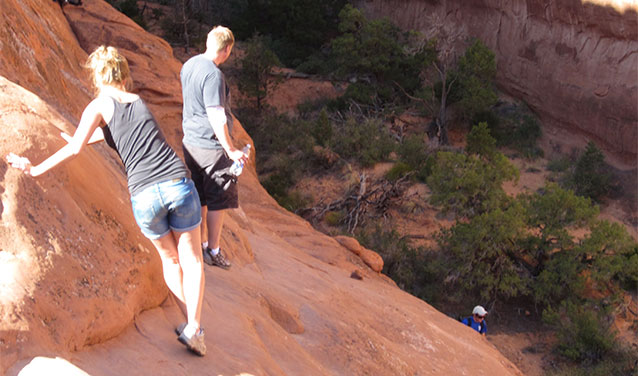 From Double O Arch, you can return the way you came, or you can take the primitive loop trail. This will increase your total hiking distance to 7.2 mi (11.5 km) round-trip, including all points of interest, and will take approximately 3 to 5 hours.
Expect even more difficult, narrow, exposed ledges, steep slopes, rocky surface hiking, and scrambling on slickrock. Not recommended when rock is wet or snowy.
Information about the entire trail system can be found in the Devils Garden Trail Guide. [464k PDF File]
Safety First
Heat and Sun

During the summer, expect high temperatures, intense sunlight and low humidity. Eat plenty of food and drink at least one gallon of water each day. Carry and drink water during all activities, such as hiking.
Proper Footwear

Wear sturdy shoes with enough tread to give you good traction.
Watch Your Step!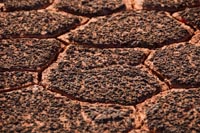 This land is every bit as fragile as it is beautiful. If you step off the trail, you may injure its living surface. When biological soil crust is damaged, it can take centuries (literally) to recover. Help us protect park soils during your visit. Please walk on trails, rock or in sandy washes (where water flows when it rains), and keep all vehicles and bikes on designated roads.
Traffic Tips
From March through October, visitation at Arches is extremely high. Parking lots at popular viewpoints and trailheads may be full for much of the day.
Remember:
Park in designated areas only.
Do not drive off roads.
If a lot is full, do not wait for spots to open; move on and try again later.
Never park on vegetation or in a manner that blocks traffic.
Don't block the flow of traffic by waiting for a parking spot.
 To have your best experience, get an early start to beat the crowds. Consider entering the park before 8 am. Learn more about dealing with traffic at Arches.
Last updated: March 31, 2015