Look Out from the Top of Mount Washburn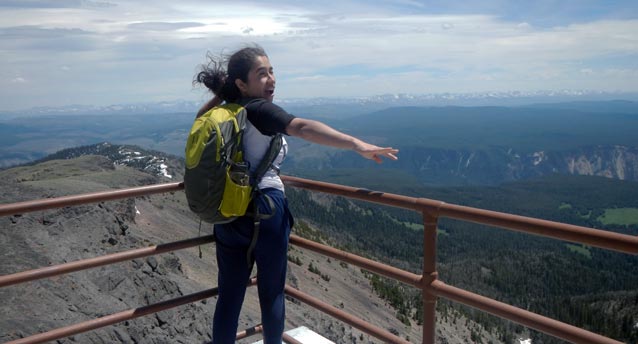 Of the more than 900 miles of hiking trails in Yellowstone, Mount Washburn is one of the most popular day hiking destinations. It is located in north central Yellowstone with a peak elevation of 10,243 feet (3,107 m) and panoramic views for about 20 to 50 miles (32 to 80 km). At the top, check out interpretive exhibits inside the base of a fire lookout and enjoy the view (you can also watch views from Mount Washburn on our webcams).
Visitors can hike to the top via two trails that ascend Mount Washburn on a wide path with spectacular views. The trails start at the Dunraven Pass Trailhead and at the Chittenden Road parking area. Bicycles may use the trail from the Chittenden Road parking area.
During July, wildflowers carpet the slopes. Visitors often see bighorn sheep near the trail.
In addition to being a popular hiking destination, Mount Washburn is one of three fire lookout stations in Yellowstone. It is continuously staffed from mid-June until the fire season ends. Fire lookouts are staffed by firefighters trained to detect and locate fires, monitor fire activity, and report significant changes. They spend the summer living alone, watching for signs of fire.
Prepare for Your Trip
Learn more about day hiking in Yellowstone
Watch views from the top on our Mount Washburn webcams
Join a park ranger as he describes working as a fire lookout in a two-minute video featuring Mount Washburn.
Distance: 6.2 miles (10 km) round-trip from the Dunraven Pass trailhead or 5 miles (8 km) from the Chittenden Road parking area trailhead, both located south of Tower Junction.
Difficulty: strenuous high-elevation trail; 1,400 feet (425 m) vertical rise from either trail. Not recommended if you have heart and/or respiratory problems.
Be Safe: Check at a visitor center or ranger station for updates on trail conditions and area closures. Know how to safely travel in bear country and watch wildlife from a safe distance. Tell someone about your hiking plans, including your destination, route, and estimated time of return. Allow yourself plenty of time to appreciate the park's views and natural wonders. Conditions at the summit are typically colder and windier than at the trailheads, and afternoon storms are common. Carry an extra layer of warm clothing and wind/rain gear.
Stay on the trail to avoid destroying fragile alpine vegetation.