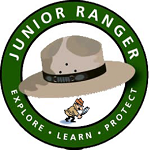 We have received word that on the 18th of April the League of Ignorance plans on traveling back in time to wipe Alexander Hamilton from history. We need your help as History Detectives to find all the clues about Alexander Hamilton and fix history as we know it before it is too late.
History Detectives will receive top secret files to help them on their journey to find out what happened to Alexander Hamilton.
Join us on April 18th 2015 to become a Junior Ranger as well as a History Detective. 
Upon completion you will be awarded a badge making you a Junior Ranger and a certificate naming you a History Detective.
Additionally, guided tours of the furnished rooms will be given on the hour, with the exception of the two open-house hours:
12p.m.- 1p.m. and 3p.m.-4p.m.
The site will be open from 9 a.m. to 5 p.m. The last opportunity to visit the historically-furnished floor is at 4 p.m, but our exhibit gallery is accessible the entire time.