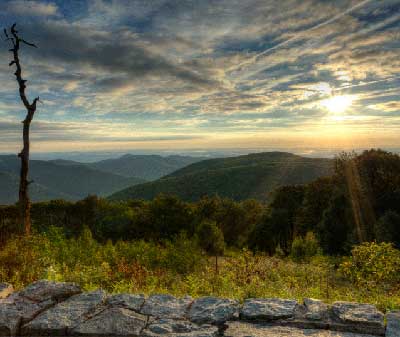 "Now, shall I walk or shall I ride?"
"Ride," Pleasure said.
"Walk," Joy replied.
                      --W.H. Davies


Shenandoah National Park and Skyline Drive, the Park's scenic byway, are the perfect combination of pleasure and joy. A scenic ride along Skyline Drive is many a motorist's ambition and pleasure.
We invite you to add a bit of joy to your pleasure! All along the beautiful Skyline Drive, tucked among numerous overlooks are wonderful "leg stretchers"--short walks to splendid vistas or cool babbling streams. A stoll through the forest is the perfect way to experience a bit more of Shenandoah.
Ask for recommendations at an entrance station or visitor center and add some joy to your pleasure in Shenandoah! Or look here for suggeseted hikes.