Hike Two Deserts in One Day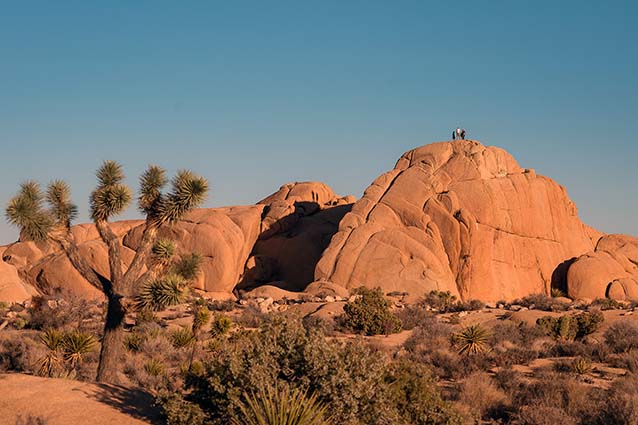 Two distinct desert ecosystems converge in Joshua Tree National Park. The western part of the park lies in the Mojave Desert, while the eastern and southern portions are in the Colorado Desert. The higher-elevation Mojave is home to the park's iconic Joshua trees, which can't survive in the hotter, drier Colorado Desert.
See the dramatic differences in vegetation for yourself by taking a hike in each desert!
For short walks on easy nature trails, sample the Bajada Nature Trail or the Cholla Cactus Garden loop in the Colorado Desert, and the Cap Rock or Hidden Valley Nature Trails in the Mojave. It's about a one-hour drive from the Bajada Nature Trail to the Hidden Valley area.
If you're up for something a little more strenuous, and if you have a little more time, you have longer day hike options. The Lost Palms Oasis Trail in the Cottonwood area—near the park's South Entrance—is a classic Colorado Desert day hike of 7.2 miles round trip.
Want to surround yourself with Joshua trees, icons of the Mojave Desert? You can't go wrong with a hike in the Black Rock area of the park, just south of the town of Yucca Valley. Trails here include the short but sometimes steep Hi-View Nature Trail (1.3 or 3 miles round trip, depending on where you start), a 6.3 mile adventure to the summit of Warren Peak, and more.
Enjoy the Desert Safely
Though beautiful, the desert environment can be harsh and unforgiving. Preparedness is critical for your safety.
Always keep an ample supply of water with you while traveling through the park, whether driving or hiking. We recommend a minimum of one gallon of water per person, per day; hikers and cyclists should carry two gallons per person, per day.
Avoid strenuous activity during times of extreme heat.
Protect yourself from the sun by wearing sunscreen, sunglasses, and a hat.
Remember, your safety is your responsibility.