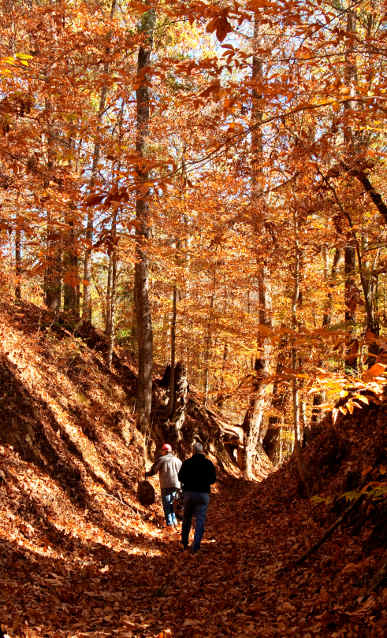 Walk along the Potkopinu section of the Natchez Trace National Scenic Trail and follow in the footsteps of American Indians, Kaintucks, soldiers, European settlers, and enslaved persons. Though each traveled the Natchez Trace for a different purpose, all are a part of the history of the Old Southwest.
As you walk through the eroded banks, you can imagine the challenges that early travelers on the Natchez Trace had to overcome and the different stories each traveler had of their journey. You too can become part of the history of the Natchez Trace by hiking along an original section of the route.
You can reach this three-mile section of sunken trace from the southern trailhead (milepost 17 of the Natchez Trace Parkway), or the northern trailhead (exit the parkway at milepost 20 to Road 553). Before you go, grab your hiking shoes or boots, drinking water, sunscreen, and download the map. Be prepared for multiple stream crossings which vary in depth depending on recent rainfall. For more information and to plan your visit, check out the Potkopinu Trail webpage.