Sequoia and Kings Canyon are home to the world's largest trees. These giants can reach the width of a three-lane highway and the height of a 25-story building. What makes them the biggest on Earth, however, is their volume—the amount of wood contained in their trunks.
Experiencing Monarchs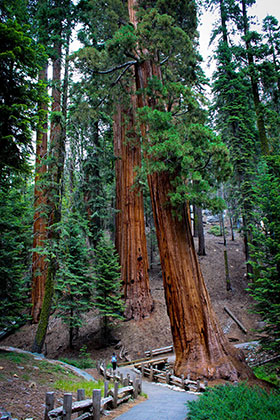 The Giant Forest offers 40 miles of trail. Gaze up at the biggest of the big – the General Sherman Tree – or walk past secluded meadows ringed by giant sequoias. Visit Grant Grove for short walks among the biggest monarchs or longer hikes through a secluded groves. Redwood Mountain Grove contains the largest of all sequoia groves and the largest area of old-growth trees. As you hike, you will see signs of many fires – some recent, some ancient.  Look for young sequoia in these burned areas as giant sequoias reproduce most successfully after fire. Wherever you wander, a hike through a grove of ancient sequoias is sure to inspire and amaze.
Last updated: October 16, 2015