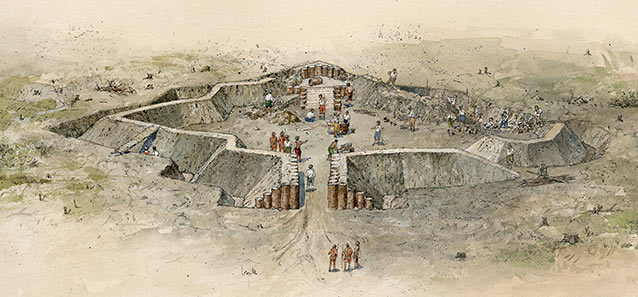 Over four hundred years ago—in 1584 by today's calendar—native Carolina Algonquian see the first English ships off the barrier islands known today as the Outer Banks. The firs meetings of these two cultures are cordial, leading to a friendship that allows two Algonquian to visit London and the English to attempt their first colonies on present-day Roanoke Island.
In 1585, the English return to the island known today as Roanoke Island and construct an earthwork while they begin exploring the surrounding lands for precious metals.
No precious metals are found, leading future colonial efforts to be focused on the Chesapeake Bay to the north. However, two years later in 1587, English colonists enroute to the Chesapeake Bay are set down here instead. The fate of this colony—known as the Lost Colony—is unknown even to this day.