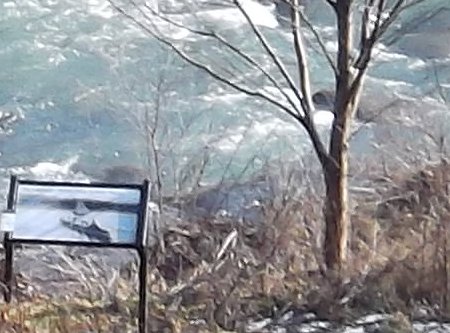 At Johnstown Flood National Memorial, visitors have the opportunity to hike the remains of the South Fork Dam and through the breach of the dam. Stand atop the South Abutment and gaze out over the lakebed of what was once Lake Conemaugh. Imagine the rush of activity on that fateful morning of Friday, May 31, 1889, as workers tried to save the dam. Imagine as those in charge shout orders to workers over the din of the heavily falling rain and the rapidly rising and rushing Lake Conemaugh.
Then, take a walk through the dam remains. As the visitor descends into the lakebed, just look up at the remaining dam walls to get a feel for just how large both the dam and lake really were. At the midway point in the trail, visitors can stand atop the foundation of the control tower. Listen to and watch the South Fork Creek meander by and think, "That peaceful little creek is the basis for this horrible disaster?"
Right before the visitor begins the ascent back up to the top of the trail, they realize they are standing between the North and South Abutments and that they are standing in the spot where the dam was breached on May 31, 1889. 
The climb back up to the top of the trail gets the heart pumping. In what is now, really, a beautiful hiking trail, the visitor has walked through the site of the beginning of one of the worst disasters in American history.