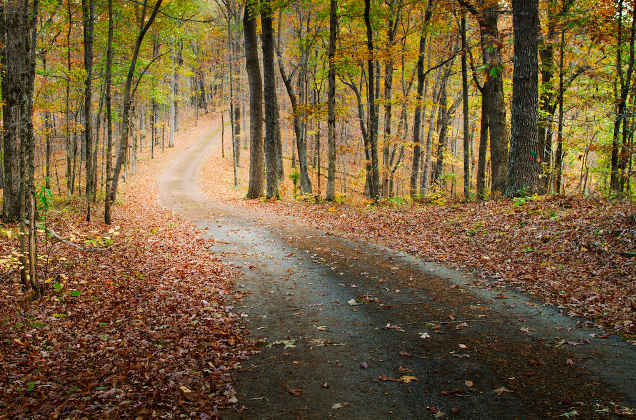 Old Trace Drive, at milepost 375.8 on the Natchez Trace Parkway, provides a chance for visitors to drive on a section of the Old Natchez Trace. Many years ago, as the automobile became a primary mode of transportation, sections of the Trace were widened and used as local county roads for car travel. Old Trace Drive today takes visitors on a scenic tour and provides a momentary glimpse of what it might have been like for some of the first automobile travelers on the Natchez Trace as they drove through the surrounding landscape.           
Old Trace Drive (one way, north) loops off the Natchez Trace Parkway for 2.5 miles and follows the path of the original Natchez Trace. At the beginning of the drive is a pull off with exhibits on the history of this ancient roadway, which serve as an orientation for your drive. The slower pace of this road allows visitors to drift back in time to meditate on the experience some of the first car travelers might have had on the Trace and to enjoy the hills and valleys below.

Old Trace Drive is beautiful all year long, but during the fall, visitors are often greeted with a blast of color as the leaves change with the season. Old Trace Drive is open daily from sunrise to sunset. This stop is closed to RVs and trailers.