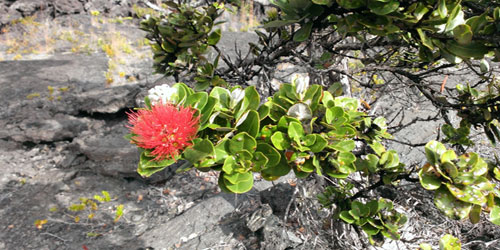 Join the National Park Service and the National Geographic Society, May 15-16, 2015, for a quest in biodiversity discovery, the 2015 BioBlitz in Hawai'i Volcanoes National Park!
During this two-day event, teams of scientists, students, and volunteers of all ages will be on the hunt to discover and inventory as many species as possible and compile a "snapshot" of the park's biodiversity.
Hawai'i Volcanoes National Park is located on Hawai'i Island, more commonly known as the Big Island, which is the youngest and largest island in the Hawaiian chain The park includes one of the most active
volcanoes in the world and protects fascinating biological landscapes from sea level to the summit of Kilauea Volcano.
Discover the mossy undergrowth beneath the trees, or count the number of insects on a Pukiawe branch. You may even get to catch a glimpse of the endangered Honu'ea (Hawaiian Hawksbill turtle) resting on the shore to add to your inventory!
See the twisted branches of an 'Ohia Lehua tree and take notice of its vibrant red flowers. But don't pick them! "Talk story" with the Kupuna (elders) in the park to learn about the legends behind those beautiful blooms and discover the rich cultural history of the park.
There will be so much to see and do at the Hawai'i Volcanoes National Park BioBlitz and Biodiversity & Cultural Festival! Remember this year's theme is: I ka nana no a 'ike- "by observing one learns." Come join in the fun in person or online! For more information, and links to sign up for an inventory, visit the 2015 BioBlitz page on the Explore Nature website.