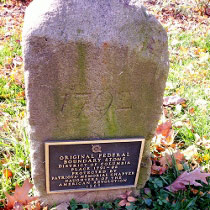 These 40 boundary stones are the oldest federal monuments in the country and outline the original 100-square mile boundary of the District of Columbia. In 1790, Congress authorized President George Washington to select the site for the nation's capital along the Potomac River between Williamsport, Maryland, and Alexandria, Virginia.

He chose the southernmost location within these limits – a mere 10 miles from his home at Mount Vernon.
These boundary stones, located at one mile intervals along the original boundary, are listed on the National Register of Historic Places, which is the official list of the Nation's historic places worthy of preservation.

Authorized by the National Historic Preservation Act of 1966, the National Park Service's National Register of Historic Places is part of a national program to coordinate and support public and private efforts to identify, evaluate, and protect America's historic and archeological resources.
Find a map and location description or visit the Washington, DC travel itinerary page for self-guided tours of the historic places, most of which are listed on the National Register of Historic Places, in the nation's capital.