Walk the Boardwalk Trail Through a Cypress Swamp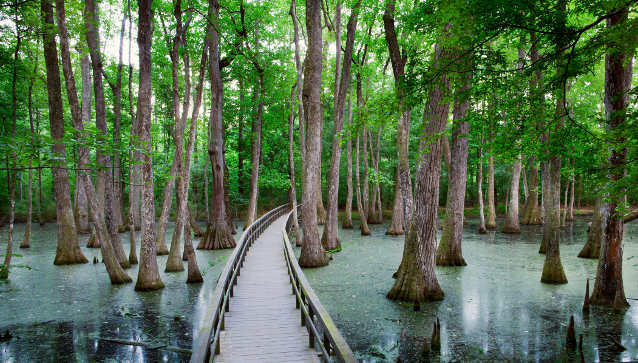 A boardwalk trail leads you through Cypress Swamp at milepost 122 on the Natchez Trace Parkway. The swamp is home to dozens of tupelo and bald cypress trees. Unlike many other species of trees, tupelo and bald cypress trees love watery bogs. The trees originally took root when the swamp was nearly dry and have thrived in a place that most trees cannot.
While you walk the trail, be on the lookout for a distinct feature of bald cypress trees—their unique root structures. Bald cypress trees produce roots known as "knees" that protrude from the surface of the water. These "knees" are thought to provide stabilization to the plant and allow the plant to access oxygen during flooding. Cypress Swamp, like other swamps throughout the Southeast United States, provides an ideal habitat for many wildlife species including frogs, snakes, and alligators. If you pay close attention, you might spot an alligator or two resting on a log during your walk.
Cypress Swamp is open daily from sunrise to sunset and located just north of Jackson, MS, and the Ross Barnett Reservoir. Plan to spend about 30 minutes as you walk the trail, envision the travelers who once passed by this site on their way home, and explore the natural beauty of the swamp and its wildlife.