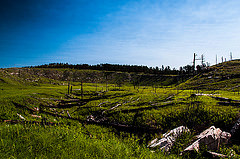 A kestrel speeds past. Song birds and crickets gossip about my passing. These are the only sounds aside from my footsteps. Signs of deer, elk, and coyote are there for those who take the time to look.
The Canyons Trail doesn't have any of the calcite formations that made Jewel Cave famous. It is no less a jewel. The full loop is 3 ½ mostly level miles through Lithograph and Hell Canyons. Wildlife is common, especially in the early morning and evening. The meadows created by the Jasper Fire provide wildflowers and lush grasses. Limestone cliffs surround the path and the remaining Ponderosa Pine forest stands in defiance of the fire.
Plan for 1 ½ to 2 hours to hike the trail. Those seeking a longer hike can combine the Canyons Trail with the 5 ½ mile Hell Canyon Trail on National Forest land. Hikers should bring sturdy boots and at least two quarts of water per person. Be aware of weather conditions! Weather at Jewel Cave National Monument can change at any time.