Ride a Bike to a Geyser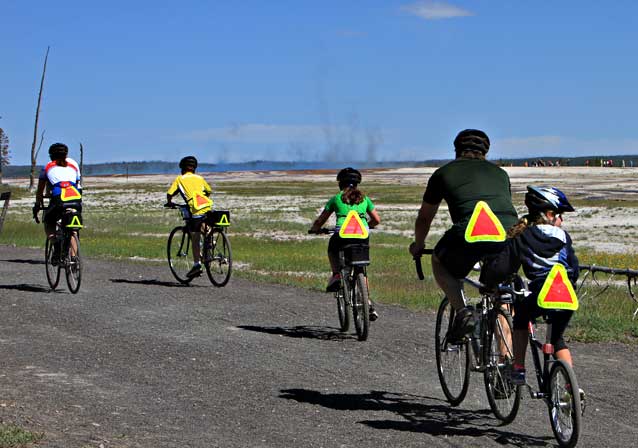 In the Upper Geyser Basin, which includes Old Faithful, bikes are allowed on the paved path between the Old Faithful Lodge and Morning Glory Pool. Take this short (2 mi. round-trip) paved path and make three stops: one at Castle Geyser—possibly one of the oldest geysers in the basin; next at Daisy Geyser, one of the most predictable geysers in Yellowstone; and third—at Riverside Geyser, a cone geyser on the bank of the Firehole River.  A short trail from Daisy Geyser to Biscuit Basin is also open to bikes if you want to go further.
Bikes are not allowed on the boardwalks, but there are several bike racks where you can park your bike while you explore.
This route becomes busy with people walking so the best bicycling is early in the morning and in the evening.
Check the NPS Yellowstone Geysers app to see when Castle, Daisy, and Riverside Geyser are predicted to erupt.
Ride to Other Geysers
Lone Star Geyser
South of Old Faithful Village, the Lone Star hiking and biking trail follows the Firehole River to Lone Star Geyser. This is a fairly easy 4.8 miles (7.7 km) round-trip on a level path. The trailhead is east of Kepler Cascades pullout, 3.5 miles (5.6 km) southeast of Old Faithful overpass on Grand Loop Road. Lone Star erupts 30–45 feet (9–14 m) about every three hours. If you witness an eruption, please note the time and report it at the Old Faithful Visitor Education Center. Bikes are not allowed beyond the geyser.
More Info
Bicycles Rentals are available from Xanterra Parks and Resorts at the Old Faithful Snow Lodge Bear Den Gift Shop.
Watch our Bicycling in Yellowstone Video
Learn more about geysers
Tour the Upper Geyser Basin online