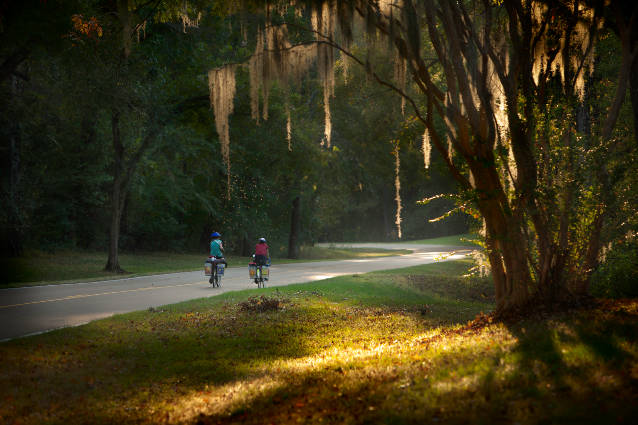 Cycling the Natchez Trace Parkway is an experience filled with scenic beauty unlike anywhere else. Steeped in 10,000 years of natural and cultural history, the Parkway is an enjoyable bike ride, whether you cycle 4 or 444 miles. Wildflowers blooming during the spring make the parkway a kaleidoscope of pinks, purples, and whites. Autumn months bring about crisp air and vibrant leaf colors of amber, orange, and gold. Gentle curves and slight inclines make the Trace an ideal ride for casual cyclists and seasoned enthusiasts alike.
The Natchez Trace can be enjoyed from the foothills of the Appalachians to the banks of the Mississippi River. There are plenty of places to stop and explore, or just to rest tired legs. Areas such as Glenrock Branch (MP 364.5) offer plenty of shade, a peaceful stream, picnic tables, and restrooms. There is also no shortage of water sources along the parkway. Although most water fountains are turned off during the winter season, bathrooms that are open throughout the year can be found all along the Trace. In addition to the three campgrounds open to all visitors, there are five other campgrounds open only to cyclists.
Always be on the side of safety by following all vehicular laws and guidelines. Share the road and make yourself visible with high visibility clothing and bicycle lights (white strobe on the front, red strobe on the back). You can find more information for planning your bicycling trip on our website.