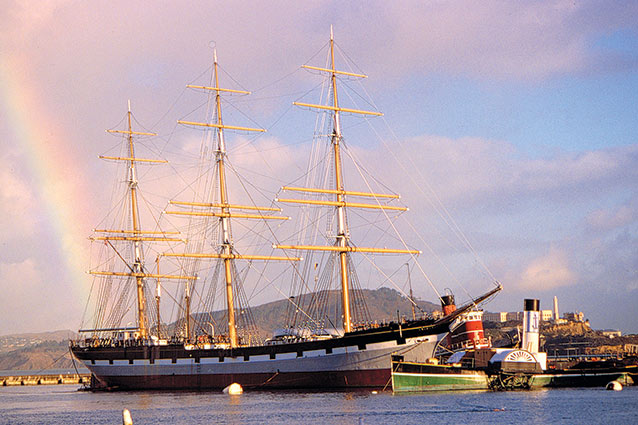 Set your clock back to the 1900s and experience the sights, sounds and textures of San Francisco's seafaring past. Learn what life was like for those who made their living on and around the water by visiting Hyde Street Pier, where the park's five National Historic Landmark ships are docked.
From the wooden decks of Balclutha – an 1800s square-rigged ship that rounded Cape Horn 17 times – duck into the cramped cabins where sailors sheltered during months at sea. There, instead of California grain, you'll find the lantern-lit Cargo is King exhibit, awarded first place in the 2009 National Association for Interpretation Media Competition.
Walk along the curving sides in the hold of the coastal lumber schooner C.A. Thayer, where layers of salt and freshly cleaned fish were stacked to the ceiling. Time the tides to board the tugboat as strong as its namesake – Hercules – and explore both decks of Eureka, a ferry that brought passengers to and from the city before Highway 101.
If it's sailing season, book a trip aboard Alma, an 1891 scow schooner constructed on the shore of San Francisco Bay. Alma's flat bottom helped her navigate the shallow waters of the Sacramento–San Joaquin Delta and silted Bay ports. As a passenger, you'll sit on deck where hay and other bulk cargoes were once stacked high.