Press Release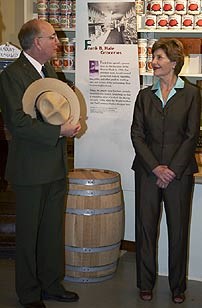 First Lady Laura Bush visits park
On August 16, 2006, First Lady Laura Bush received a warm welcome from Dayton Aviation Heritage Superintendent Lawrence Blake and park staff as she toured the park and the Wright-Dunbar Village neighborhood. Accompanying Mrs. Bush were U.S. Rep. Mike Turner, R-Centerville and Sen. Mike DeWine, R-Ohio and their families.
"I'm so happy to have this chance to tour the Wright-Dunbar area here in Dayton, to see the buildings that the Wrights used, both as their bicycle shop and to run their printing shop; and the place where Paul Laurence Dunbar printed his newspaper that he sold in Dayton," stated Mrs. Bush.
Congressman Turner remarked that the First Lady's visit was intended to help draw attention to the area's revitalization and preservation efforts. He added, "I was very glad to welcome the First Lady here to the Wright-Dunbar area. I invited her because of her love for historic preservation and the fact that this community had received a historic Preserve America designation, which she has been such an advocate for."
"This area is a really wonderful example for the rest of the country of a way to use your historic assets and literary assets to try to revitalize neighborhoods. In 2003, President Bush announced the Preserve America Initiative, and that initiative is designed to help neighborhoods like this one, and communities, figure out how to preserve and protect both their natural assets and their cultural and historical assets for the benefit of all of us."
Mrs. Bush praised the park's efforts in displaying the lives of both the Wright brothers and Paul Laurence Dunbar. "I urge people in Dayton, as well as all over the state of Ohio and all over the U.S. to come here. There are several sites all within this one neighborhood...and it really gives you an opportunity to see the history of Dayton, to see the history of flight and the innovation of the people that lived here in Dayton around the turn of the last century."
Last updated: April 10, 2015