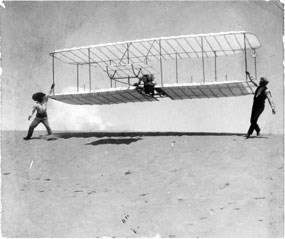 Where did the Wrights test their gliders and airplanes?
The Wrights tested their earliest kites near their home in west Dayton. However, by studying the data of German aviation pioneer Otto Lilienthal, the Wrights found that they needed a headwind of fifteen to twenty miles per hour to launch their gliders. They also wanted privacy and sand dunes to cushion landings. They learned of Kitty Hawk, a remote community on the outer banks of North Carolina, by studying a table of average wind speeds compiled by the U.S. Weather Bureau. The Wrights tested their gliders and airplanes at Kitty Hawk from 1900 to 1903 and again in 1908.
From 1904 to 1905, and again from 1910 to 1916, the Wrights tested their airplane designs at Huffman Prairie, a 100-acre (40 ha) pasture owned by Dayton banker, Torrence Huffman eight miles northeast of downtown Dayton. Orville and Wilbur wanted a testing ground that was closer to their home in Dayton than was Kitty Hawk. The Dayton-Springfield Pike and the Dayton, Springfield & Urbana Electric Railway bordered Huffman Prairie, and trolleys from Dayton arrived at nearby Simms Station every thirty minutes. The Wrights did not test their airplanes from 1906-1907 or during 1909.